Sitting Angels

( FREE SHIPPING! )
Mistic Angel
A unique gift for all angel collectors! Our elegant country angel measures 9 1/2" tall and is crafted over a recycled "Mistic" juice bottle.We used "Aunt Lydia's" denim crochet thread and wrapped the entire bottle.She has braided arms,cloth wings and a wooden head.Her hair is made from spanish moss and she is holding a decorative grapevine heart with mini gyp and real dried roses.Her "dress" is decorated with 2 small doilies.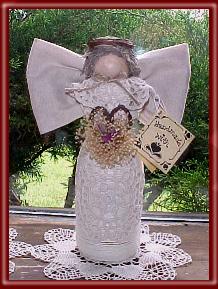 $18.00 Item #MISTAN

Chubby Apple Angel
Our chubby apple angel is another one of our popular "Block Doll" creations.She measures 7" tall and she is wearing a hand stenciled cotton dress.Her wings are rusted tin and she is holding a small grapevine heart which is decorated with dried mini gyp and three small wooden apples.She has a handpainted wooden head and spanish moss hair.Her halo is a small grapevine wreath.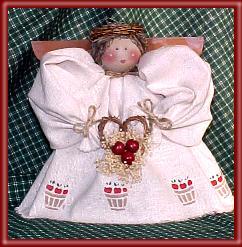 $18.00 Item #CAPA

Rose Angel
This 7" tall angel is crafted from a tea dyed muslin fabric fabric which has been glued to a wooden block.She is holding a miniature wicker basket filled with real dried mini rosebuds and mini gyp.(included)Her wings are rusted tin and her wooden head has spanish moss for hair.(Miniature baskets pictured in front of angel are sold separately)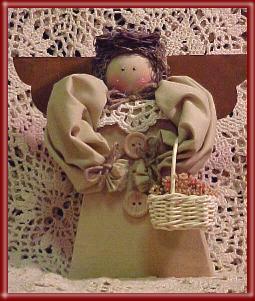 $15.00 Item # RA

Mini Rose Basket Set
These adorable mini baskets measure about 1 1/2"x 1 1/2" and are filled with real miniature rosebuds and mini gyp.They sure will compliment any curio cabinet or shelf.The set includes one each of the following shapes:round,square,oval and rectangular.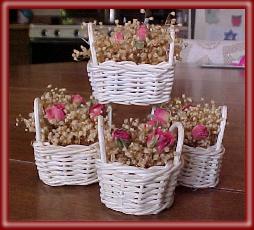 $12.00 Item # MRB

Sitting Americana Angel
This Angel is made from a wooden block which has been covered with fabric.Her wooden face and cloth wings have been handpainted and she is holding a small bouquet of dried flowers.She measures about 8"h x 8 1/2" w.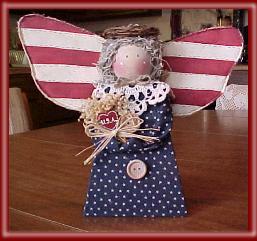 $15.00 Item # SAA

Tess-Sitting Angel
This angel is the perfect country accent for any shelf or small chair.She measures 14" tall and about 7" when sitting.She has a handpainted face and is decorated with a homespun cinnamon heart garland,buttons and jute bows.She is available in hunter green or burgundy.Please specify.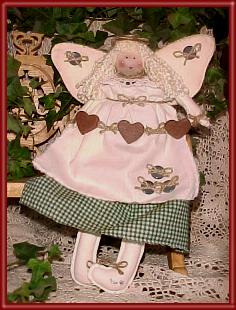 $25.00 Item # TESS

FREE SHIPPING!!
To order any item just click the "add to cart" button,to view the contents of your cart and to pay for your order via PayPal please click the view cart button below. To pay by check or money order please click"PAYMENT FORM"