Americana Country crafts
(FREE SHIPPING!)

Mr.& Mrs. Libearty
Meet George and Laura Libearty.This lovely Teddy couple is made from ivory plush felt and both have hand stitched faces and paw pads.Laura measures about 15" standing and is wearing her favorite,lacy "Americana" Dress.George measures about 15" and is accented with a bow.Both are holding a removeable "Americana Pin" which are included.You may purchase each bear separately or as a set.Sorry,no wholesale available on the bears.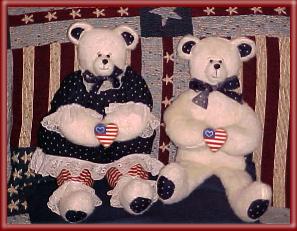 Order both for $50.00 and save $5.00 Item # GLLS
Laura Libearty $30.00 Item # LL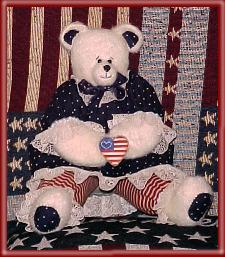 George Libearty $25.00 Item # GL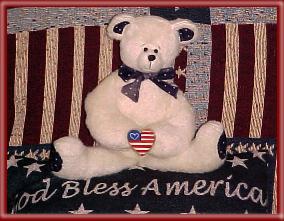 Primitive Americana Doll
This sitting doll is crafted over a wooden block and measures about 11 1/2" tall.Her head,arms and apron are made from tea dyed muslin and her hair is made from curled wire.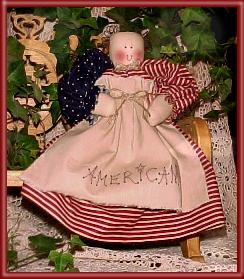 $18.00 Item # PAD

Americana Angel
This patriotic angel is made from shredded fabric and has handpainted muslin wings.She is about 20" tall and can be hung on a door or wall.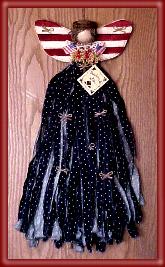 $25.00 Item # AA

Sitting Americana Angel
This Angel is made from a wooden block which has been covered with fabric.Her wooden face and cloth wings have been handpainted and she is holding a small bouquet of dried flowers.She measures about 8"h x 8 1/2" w.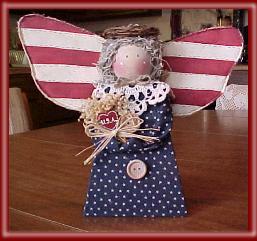 $15.00 Item # SAA

USA Pot
This decorative 3" handpainted terracotta pot has been individually painted and signed by Tina and then antiqued for a timeworn look.The rustic looking wheat/dried flower arrangement is optional.Overall hight of this item is about 8"(with flowers).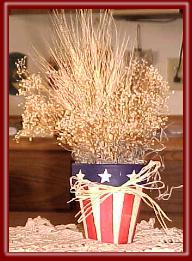 $10.00 with flowers Item # USAPF
$8.00 pot only Item # USAP

Americana Lighthouse Sign
This Americana Lighthouse Sign measures 26"w x 7 1/4"h and is an original painting by Tina.Each sign is individually painted,therefore each sign may differ a little from the one pictured here.The surface of the sign has been crackeled for a timeworn look and the border is made of jute.Recommended for indoor use.

$30.00 Item # ALHS

Americana Pin
This adorable wooden heart pin has been handpainted and signed by Tina and is accented with a jute border.It measures 1 1/2"X 1 1/2" tall and will definitely look great on your "ole" Jean Jacket or sweater.Since all of Tina's handpainted products are done "free hand" they will slightly differ from the ones shown.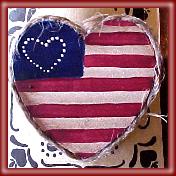 $6.00 Item # AP

Wooden Americana Snowman Ornament
These wooden snowman ornaments are 4 3/4"h x 1 3/4" w.They are handpainted and have been antiqued to give them an aged look.Wire,a raffia bow and fine gold glitter have been added.The back is painted white and they have been signed by Tina.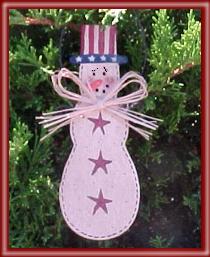 $5.50 Item # WASMO








Americana Santa Ornament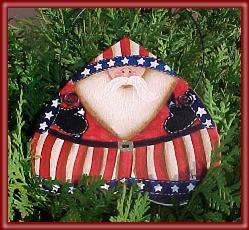 A lot of detail work in this beautiful wooden heart santa ornament! It measures 4 1/2"x4 1/2" plus wire.The back is painted white.Use as an ornament or hang him around a regular jar candle for decoration.Looks great!




$9.00 Item # HASO








FREE SHIPPING!!
To order any item just click the "add to cart" button,to view the contents of your cart and to pay for your order via PayPal please click the view cart button below. To pay by check or money order please click"PAYMENT FORM"